How much time do you spend thinking about the accuracy of your laboratory balance or industrial scale? Probably not much! However, over time the performance of weighing equipment can change due to environmental changes, wear and tear, or non-apparent damage.
Routine testing of balances or scales in-between scheduled calibrations helps to maintain accuracy by ensuring early detection of non-conformance with weighing process requirements so that corrective action can be taken in a timely manner.
If testing isn't performed correctly or not done at all, it can lead to:
• Undetected inaccurate weighing results because the device isn't performing properly,
• Inferior results or product quality, process and audit issues,
• Repetition, product rework or recalls.
Routine testing by the user, along with periodically scheduled calibrations by a service technician, significantly reduces the risk of inaccurate weighing results.
How to Make Sure You Are Not Testing Too Often or Too Little?
A traditional approach with — often daily — routine testing at multiple points in the operating weighing range can take a great deal of time and effort and therefore staff resources, and may not even provide any meaningful metrological information.
Discover what is really essential for testing your laboratory balances or industrial scales and how to put routine testing into practice to ensure your weighing results are accurate each and every day.
Calibration, Adjustment and Routine Testing — What's the Difference?
Calibration, adjustment and routine testing are all vital to maintain weighing accuracy. Weighing instruments undergo a certain amount of wear and tear over time as a result of frequent usage. It's essential therefore that any balance or scale is calibrated on a regular basis, and that adjustments or corrective actions are made when necessary.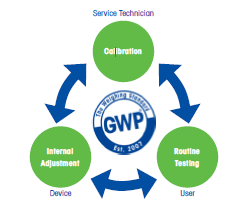 The combination of calibration with preventive maintenance, routine testing and internal adjustment, (if applicable)
Ensures consistently accurate weighing results.
The Four Pillars of Routine Testing
To outline the details of routine testing of balances and scales, four pillars need to be considered.
Find out more on How to Ensure Accurate Weighing Results Every Day? Put Routine Balance Testing into Practice.
About METTLER TOLEDO
METTLER TOLEDO is a leading global manufacturer of precision instruments. The Company is the world's largest manufacturer and marketer of weighing instruments for use in laboratory, industrial and food retailing applications. The Company also holds top-three market positions for several related analytical instruments and is a leading provider of automated chemistry systems used in drug and chemical compound discovery and development. In addition, the Company is the world's largest manufacturer and marketer of metal detection systems used in production and packaging. Additional information about METTLER TOLEDO is available at www.mt.com.
Email us at – sales.sales@mt.com
Call us toll-free at – 1800 22 8884 & 1800 1028 460